If you've volunteered (or been volunteered!) to appear in a company video production, you're probably asking…What should I wear?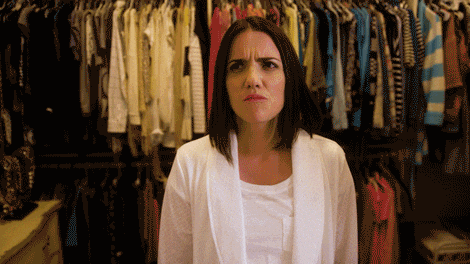 Whilst not video fashionistas, we can help with a few quick practical wardrobe tips!
Wear something you feel comfortable in.
You know which outfits in your wardrobe make you feel confident, so choose something that presents well and is comfy.
Remember, sweatpants and PJs are probably not a good look for corporate video, no matter how comfortable.
If you decide to splash some cash on an outfit for your starring role, make sure you "Road Test" it in advance of your video shoot, so you know it's comfortable and to eliminate wardrobe malfunctions!
Be on brand.
Your video wardrobe should reflect your company culture, and the tone of voice you want to communicate in your video.
If you wear branded work wear, make sure the branding is up to date!
Whilst this may sound obvious, there have been occasions where we've had to 'fix it in post' as someone has shown up wearing clothes with old logos.
Colours and patterns.
Colours to avoid are white, and black.
In video black clothes lose their detail and appear as a solid blob, and white is almost the same, except white!
Plus, if you're filming against a green screen, don't wear any green!
Patterns can be troublesome. Small checks, fine stripes, herringbone and dog-tooth patterns can cause moiré patterns in video, so avoid!
Ditch the noisy bling!
Jewellery can make noises that are picked up by microphones on a video production, and necklaces can catch on the lav mic, so minimise the bling!
Be cool.
Video lighting can quickly heat up a space, so wear something that you won't feel too hot and uncomfortable in.
Sweaty and shiny is not a good look!
Trust the production crew!
They want you to look good, so, relax, have fun, and let your personality shine through.
If you want to see how Page One can help you to look great in your next corporate video production, Contact Us!